Your House of Turkey is here to serve our community and represent our culture. Come and join us on September 21, Sunday for our Lawn Program in Balboa Park.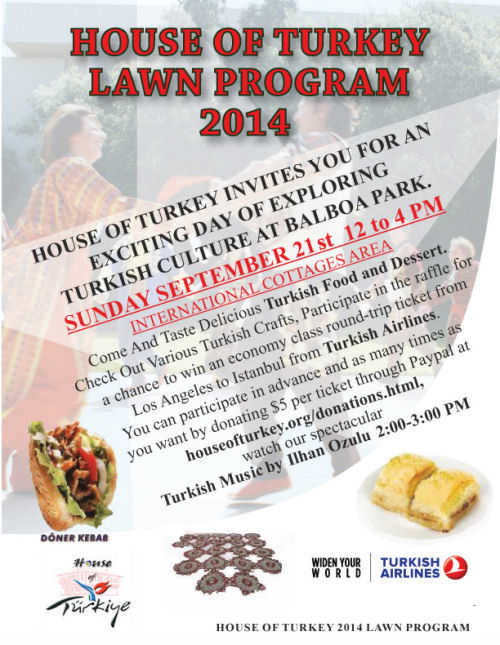 Please visit our Donations page to make a $5 donation for a chance to win a round trip ticket to any destination in the world from Los Angeles with Turkish Airlines via Istanbul. You can also join us on September 21, Sunday (12 pm – 4 pm) and make your donation in person.
Doner will be served by Café Istanbul of downtown San Diego.
We will serve pistachio baklava from Baklava King.
ATASC-SD Turkish School's Folk Dance Group will take stage in the afternoon.
Ilhan Sami Ozulu will be with us to make it a perfect day of joy.
Veli Hergül is running a backgammon tournament at 12pm. Please contact him for details: veli.hergul (at) yahoo dot com.
This event is sponsored by:
North Coast Oral Surgery
Tarkan Sidal DDS, MD, Inc.
http://www.implantsurgeon.net/
1205 West Vista Way
Vista, CA 92083
Phone: 760 941.5051
Fax: 888 228.5701
Email: tsncos (at) gmail dot com
See you all on September 21, Sunday at 12 pm!